Warning: Technology changes very quickly so it is always recommended that you look at the date when the article was last updated. If you have any questions feel free to contact us.
Article Date: 04-01-2015
Photo and Video Editing Setup
Why is RAM important for Photoshop and Video Editing?
Whether you goal is Photoshop or serious Video Editing, in a modern machine, the amount of RAM your Photo or Video system can use, is your foremost concern. Assuming your PC has decent specifications, RAM is most important and cost-effective component you can pay attention to (for both Photoshop and Video Editing).
If you have insufficient RAM your PC can halt to an absolute standstill. This happens easily with Photo and Video editing, especially when editing multiple layers of a large photo, or when applying effects to your video. In the case of photo editing, each layer that you add an effect to multiplies the size of working memory by the size of your original image. This can add up fast, particularly when working with RAW photos. The effect is similar, but the file sizes are even larger with video. 16 Gb of RAM is a bare minimum for Photo and Video needs, but more RAM is better, especially when it comes to processing video. This is why our Photo Video Editing PC can be configured with up to 64GB RAM and our Professional Video Editing Workstation can be configured with up to 256GB of RAM.
What is a Scratch Drive? Why is a Scratch Drive Important for your Photoshop PC or Video Editing Setup?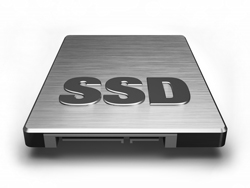 A scratch drive is a dedicated drive that you set up within your given program (usually within Photoshop or your Video Editing program) to handle working files once your files have used up your RAM. A scratch drive (or scratch disk) is a hard drive dedicated for temporary storage of working graphics and video files. You can set your scratch disk up (within your Photoshop or Video Editing Software) to erase all data on a scheduled basis. You can also setup an SSD drive as a scratch disk for an ultimate scratch drive.
Information about Allocating RAM and Assigning Scratch Disks in Photoshop
What Size Hard Drive Do I Need for Photo and Video Editing?
Photographers, graphic artists, and video editors require a lot of hard drive space. We recommend setting up your photo or video computer with at least one fast scratch drive (preferably an SSD), a system drive (preferably an SSD), and at least one large hard drive with ample room for photos and videos. We also recommend some sort of backup service, such as Carbonite. You can also set your storage hard drives up with RAID, striped for quickness.
More Advice on Choosing the Right Size Hard Drive for your PC
The following are common amounts of space that photos and video take up on your hard drive.
Photo and Video Files a 2GB Hard Drive Space Can Hold:
400 3000 x 2000 pixel JPG files
65 typical Semi-Pro Camera RAW images
1 hour MPEG-2 video
Uncompressed HD Video | Approximate Hard Drive Space Requirements
1 hour 720p (4-bit) 13GB
1 hour 1080p (8-bit) 26GB
Do I need a Quadro Card? Is GTX better? What's the difference between Quadro and GTX?
Nvidia Quadro cards offer GPU accelerated computing by tying together the GPU with the CPU. This makes quick work of 3D animation, CAD, as well as scientific and engineering applications. In addition to CUDA cores (which GTX cards also have) Quadro cards are also designed to be extremely stable and relaible, and include proprietary software beneficial for certain computational 3D rendering work.
What is GPU accelerated computing?
Generally speaking, you don't need a Quadro card for either Photoshop or Video Editing unless you are doing a lot of 3D animation, rendering, and filters as part of your Photoshop or Video Editing processing. Additionally, if you have a 10-bit monitor, and wish to display realistic output DURING the editing process, a Quadro card can be of use to you. Then, in these cases, the power of a Quadro card may make a substantial difference in your productivity. Quadro cards shine in heavy three dimensional processing.
Despite their benefits, Quadro cards are much more expensive than EVGA Nvidia GTX 9XX series video cards. And, what most commonly matters for both Photoshop and Video Editing performance are:
video memory bandwidth
video memory speed
the amount of video memory

And
the clock speed of the video cards
After these factors, CUDA cores are also important for both photo editing and video editing.
You can look at those specifications to see how various video cards for photo and videography perform. You can also look here to see how PassMark benchmarks these video cards with real-world (overall) performance.
High End GPU Benchmarks
*Passmark Benchmark ratings can change. Please see Passmark for official rankings.
| | | | | | | | |
| --- | --- | --- | --- | --- | --- | --- | --- |
| | Memory Bandwidth | Memory Clock Speed | Amount of Memory | Engine Clock Speed | CUDA Cores | Passmark G3D Ranking – Higher is Better* | Passmark Direct Compute Ranking – Higher is Better* |
| 960 | 112.16 GB/s | 7010MHz | 2GB | 1127 MHz | 1025 | 5995 | 2848 |
| 970 | 224.3 GB/s | 7010 MHz | 4GB | 1165 MHz | 1664 | 8635 | 4130 |
| 980 | 224.3 GB/s | 7010 MHz | 4GB | 1266 MHz | 2048 | 9697 | 4920 |
| K2200 | 80 GB/s | NA | 4GB | NA | 640 | 1668 | 1546 |
| K4200 | 173 GB/s | 2700 MHz | 4GB | 771 Mhz | 1344 | 4380 | 1956 |
| K5200 | 192 GB/s | 3000 MHz | 8GB | 667 MHz | 2304 | 2865 | 6300 |
| M6000 | 317 GB/s | 3300 MHz | 12GB | 988 MHz | 3072 | NA | 5581 |
You can see from the above chart that all the Quadro cards below the K6000 have trouble competing with the general performance levels of the EVGA Nvidia GTX 9XX series cards. Yet, the GTX 9XX cards are significantly cheaper than all but the Quadro K2200 card.
Nvidia GTX vs. Quadro Video
The following video is a super quick explanation regarding the differences between Nvidia GTX versus Quadro: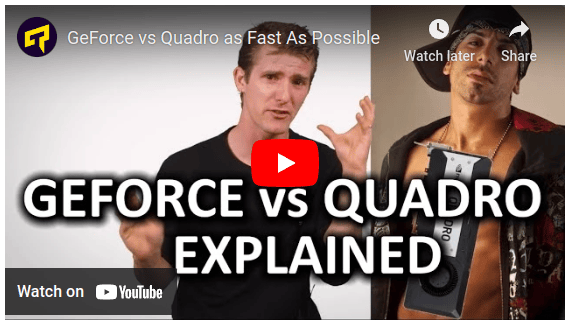 Why is Thunderbolt important for a Video Editing Setup?
Thunderbolt is an important feature to have planned out in a Photo or Video PC, if you plan on doing serious video editing with your PC, or plan on doing so down the road. This is because many current and future professional video editing devices run on (or will run on) Thunderbolt.
Thunderbolt 2 runs at a manufacturer stated 20 Gbps. In real world numbers, its maximum throughput is 16.8 Gbps (because it uses 4 PCIe 2.0 bus lanes to communicate with the CPU). This still leaves Thunderbolt as the fastest external connection available.
Thunderbolt is also isochronous, meaning it sends data as a steady stream (like Firewire before it). USB on the other hand sends data as packets. An isochronous connection provides a steady stream of data and is less prone to hiccups when processing audio and video.
Video Devices Using Thunderbolt
Devices such as the Black Magic Cinema Camera, Black Magic Design UltraStudio, and Aja Io® XT use Thunderbolt and Thunderbolt 2 for their connector of choice. RAID arrays are also wildly popular for the massive storage demands of Video Editing and RAID Storage Arrays such as the Pegasus2 utilize Thunderbolt 2. The original Thunderbolt (10 GB/s) is backwards compatible with Thunderbolt 2 (real world 16.8 GB/s). Additionally one Thunderbolt port is usually all you need, because you can daisy chain up to SIX Thunderbolt 2 devices losslessly.
All About Thunderbolt, Firewire, and USB
Why PCI-E Lanes Are Important For Video and Photo Processing?
PCI-E lanes are the lanes that your computers data run at. Many devices run over these PCI-E lanes. Video cards, SSD drives, Thunderbolt, RAID controllers, Sound Cards, Network Controllers, and specialized PCIe cards all run over PCIe lanes. If you are running a PC with a lot of devices and you process something which is resource heavy (such as non-compressed photos and video), then it is important for every device to be able to use its full PCI-e potential (or bandwidth). If you don't have enough PCI-e lanes altogether, your PC will negotiate which device gets how many PCI-e lanes. When your Photoshop or Video Editing PC does this, one or more of your devices may not get as much bandwidth as it has the potential to use.
This can cause a bottleneck, which causes your PC to perform slower than it otherwise could, if you only had enough PCI-e lanes. This is why we have built our Photoshop and Video PCs out of Socket 2011 and Dual Socket 2011. Socket 2011 has up to 40 available lanes, and Dual Socket 2011 has up to 80 available PCIe 3.0 lanes. (Socket 1150 only has 16 lanes of PCIe bus.)
The Important of PCI Express Bus Lanes
Usable PCIe 3.0 x16 Slots Are An Important Feature For Your Video Editing Setup
Many motherboards provide numerous PCIe x16 slots, but in fact only one of those slots can actually run at x16. In some cases, if another slot runs at x8, the first slot won't even run at x16. If this is the case, your motherboard specifications might look something like this: "x16, x8/x8/x8, x8/x8/x4 mode". So, make sure to check out your motherboard specifications carefully for the PCIe slot configuration and make sure to set your high-end audio, graphics, and video peripherals which will benefit from x16, in a configuration that will utilize x16.
One factor that can affect how many x16 PCI slots you have available, is determined by the number of PCIe bus lanes your CPU supports. Socket 1150 CPUs only support 16 PCIe bus lanes and generally speaking will, at most, support one x16 PCIe 3.0 slot (and usually only if you don't use an x8 card in the same configuration). Socket 2011, on the other hand supports 28 to 40 lanes of PCIe bus lanes (80 with dual Xeon CPUs). 28 lane CPUs generally support one x16 PCIe 3.0 slot (although they usually support that x16 card along side an x8 card). We recommend using a 40 lane CPU when building a Photo, Video, or Audio PC, not just for performance, but for flexibility for future expansion of PCIe slots. Look for an i7-5930K and above, or a Xeon E5, to ensure your CPU supports 40 lanes of PCIe bus. Also check that your system's motherboard supports at least 2 x usable PCIe 3.0 x16 slots (like our Photo Video Editing PC).
Depending on the type of video you are processing, many video devices (such as an SDI video I/O card, your main GPU, your secondary GPU, and HDMI monitoring), will only run seamlessly when each of them are running on a (usable) PCIe 3.0 x16 slot. If you are looking for a professional video editing setup for your post-production studio, we recommend our Professional Video Workstation, which includes 3 x PCIe 3.0 x16 slots, as well as 2 x PCI-E 3.0 x8 Slots and 1 x PCI-E 2.0 x4 (in x8).