Elite Performance Quiet PCs
Looking for an elite ultra-performance, low-noise PC that you offers the best in silent desktop computing? Our QuietElite™ PCs feature the top-of-line quiet PCs, on the cutting-edge for performance, compared to any PC available.
The Dual Xeon Scalable Extreme PC is a great example of true performance and true silence. If you need pure data crunching ability, without the noise, this Extreme PC features TWO (2) Intel Xeon CPUs (for a ton of cores!) and up to a unimaginable amounts on a server class motherboard. Whatever the task, this is the biggest, most powerful quiet PC you can get.
Fanless, Noiseless PCs
Full Power | Real Options | No Noise
If you wish to go beyond a truly quiet PC, and experience a truly powerful, fully-functioning PC with ABSOLUTELY NO NOISE, then check out our Fanless PC section.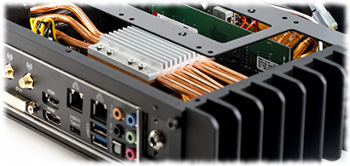 For the home studio and the professional
All our truly silent Digital Audio Workstations feature professional and enthusiast level options for the best audio recording has to offer. We feature four separate DAW base designs, fitting all levels of recording needs from the professional audio studio, to portable on-stage live recording, to the home studio. Each Digital Audio Workstation also features Thunderbolt and/or Firewire options for audio peripherals.