SKU: velcro_cable_ties
This product usually ships the same business day!
$1.99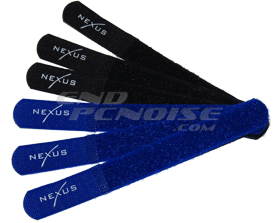 Velcro Cable Ties
No loose cables in your computer case anymore. These reusable Nexus CT-600 velcro cable ties are easy to use and make the inside of your case look clean and tidy.
Loose cables can cause a lot of problems. They can make noise, and even break your PC when obstructing case fans or CPU coolers. With the CT-600 velcro cable ties, you can keep all the cable together and makes the inside of the PC look clean.
Included in the CT-600 package are 6 pieces of velcro cable ties, three black ties and three blue ties.
Just wrap the CT-600 velcro cable ties around your cables and the velcro does the rest.
Velcro Cable Tie Features
Soft and flexible cloth
High quality velcro
Keeps the PC safe and clean
Easy to install
$1.99

If you have any questions, don't be afraid to ask. No problem is too big or too small. We are, at our very core, a custom PC builder. So, if you have a custom need, we can find the solution. All you need to do is ask our sales team. We will be glad to answer all your questions.