NEXUS PWM FAN | 92MM NEXUS PWM REAL SILENT CASE FAN
SKU: pwm_92mm
This product usually ships the same business day!
$12.75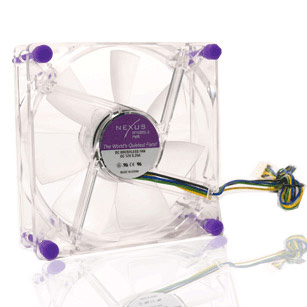 92mm PWM Silent Case Fan
These Nexus Silent PWM Fans are variable speed fans using Pulse Width Modulation (PWM). PWM allows the motherboard to control fan speed. One advantage of PWM fans is that they allow for overall lower fan rotation speeds and the ramping up of the fan is extremely subtle. Wikipedia is a great source for more information on Pulse Width Modulation.
After leading the market for many years, with the Nexus basic real silent fans, Nexus decided to release their PWM versions of the Nexus silent case fans. Nexus has strived to set up the PWM fans with the best possible characteristics. Great performance and extreme low dB(A) ratings is guaranteed.
Nexus achieved an amazing 15.8 dB(A) noise level at 700 RPM (measured in a chamber with a background noise of 15 dB(A).
Take control of your fans...and hear yourself think again.
Pulse Width Modulation
The use of a 4 wire PWM controlled fans is a means to reduce the overall system acoustics. The expectation is a 4 wire PWM controlled fan when properly implemented will be significantly quieter than a similar 3 wire fan.
Nexus 92mm PWM Fan Specifications
Manufacturer
Nexus
Product Name
92mm PWM Real Silent Case Fan
Model Number
DF1209SL-3PWM
Nexus 92mm PWM Fan Dimensions
92 x 92 x 25 mm
Version
Clear chassis and foggy rotor/blades
PWM Fan Accessories
4 pieces purple ultra-soft silicone fan mounts
Fan Speed
700 ~ 2500 RPM (±10%)
Noise Level
15.8 ~ 27.8 dB(A)*
Airflow
Up to 43.5 CFM
*Measured in an ISO certified chamber with 15 dB(A) background noise.
$12.75