Hard Drives
Hard drive upgrades are one way to ensure your new system is snappy and responsive. Today's modern computers ideally should be paired up with the right hard drive/s to meet your needs. How you choose to setup your individual PC's hard drive configuration is largely dependent on your personal needs and budget. We offer a wide range of hard drives in our PCs, but every hard drive we offer is well known for its silence and reliability.
NVMe PCIe 3.0 x4 SSDs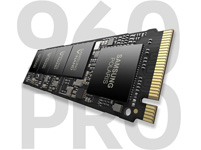 NVMe M.2 drives are lightning fast hard drives which utilize your PC PCIe 3.0 system bus lanes. If available on your PC, we recommend putting your operating system and programs on a PCIe 3.0 x4 NVMe M.2 hard drive, and putting your data storage on a SATA III SSD or WD Red Hard Drive. Note: NVMe M.2 drives will only work at full speed on M.2 and NVMe-ready motherboards, which is the case with most of our new systems. Look for M.2 PCIe 3.0 x4 in the specifications.
PCIe 3.0 x 4 SSDs/M.2 drives are typically 3X-6X as fast as SATA III SSDs and are 9X-18X as fast as standard hard disks.
SSDs = Absolute Silence
For absolutely silent drive operation, with extremely fast speeds, a solid state drive (SSD) or M2 drive is the best option. Unlike a standard hard drive, SSDs and M2s have no moving parts. SSDs don't make any noise, are much faster than a standard hard drive, and are more reliable. We recommend Samsung 860 Evo SSDs for a highly reliable and reasonably priced SSD.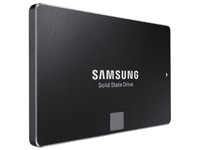 SSDs are typically 3X as fast as standard hard disks.
Quiet Data Drives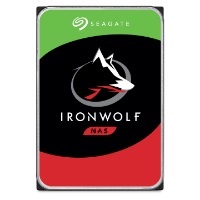 Our Seagate Ironwolf Series quiet hard drive drives are extremely quiet. Ironwolf Series drives are generally used for LARGE DATA STORAGE, for long-term reliability, and for extreme silence with a reasonable price-tag. For PCs that are always on, a highly reliable drive is essential. The Seagate Ironwolf drives are designed and manufactured to be a reliable and robust solution.
Recommended Hard Drive Configurations
Computer and Hard Drive Connector Speeds
| Description | Model Number |
| --- | --- |
| Samsung 990 PRO 1TB SSD M.2 (7450/6900 MBps R/W) | MZ-V9P1T0B/AM |
| Samsung 990 PRO 2TB SSD M.2 (7450/6900 MBps R/W) | MZ-V9P2T0B/AM |
| Samsung 990 PRO 4TB SSD M.2 (7450/6900 MBps R/W) | MZ-V9P4T0B/AM |
| Sabrent Rocket 4 Plus 4TB SSD M.2 (7000/6800 MBps R/W) | SB-RKT4P-4TB |
| Sabrent Rocket 4 Plus 8TB SSD M.2 (7000/6800 MBps R/W) | SB-RKT4P-8TB |
| Samsung 870 Evo 1TB SSD (560/530 MBps R/W) | MZ-77E1T0B/AM |
| Samsung 870 Evo 2TB SSD (560/530 MBps R/W) | MZ-77E2T0B/AM |
| Samsung 870 Evo 4TB SSD (560/530 MBps R/W) | MZ-77E4T0B/AM |
| Samsung 870 Qvo 8TB SSD (560/530 MBps R/W) | MZ-77Q8T0B/AM |
| Seagate IronWolf 6TB Hard Drive (180 MBps R/W) | ST6000VN001 |
| Seagate IronWolf 8TB Hard Drive (210 MBps R/W) | ST8000VN004 |
| Seagate IronWolf 12TB Hard Drive (210 MBps R/W) | ST12000VN0008 |
| Seagate IronWolf 16TB Hard Drive (210 MBps R/W) | ST16000VN001 |
| No System Drive Installed | |