FAN GASKET | ANTI VIBRATION FAN GASKET
SKU: beamair-fan-grill
This product usually ships the same business day!
$6.49

Nexus BeamAir Fan Grill
The Nexus BeamAir is a fan adapter you can put on your case fan to make it more powerful. Simple, but very effective! The airflow of a casefan is, in most situations, scattered arround in an angle of almost 180° coming from the fan. The BeamAir guides the airflow coming from your fan, into a straight beam of air without causing obstruction or turbulance. The airflow is more powerfull; it has a greater reach and hence much more effective and efficient. The BeamAir is made from plastic material in a patent pending shape, design and function.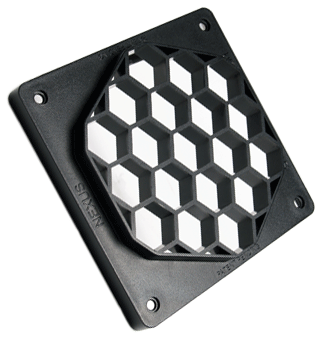 Features & Specifications:
Model #: BEAMAIR 80/92
80mm and 92mm fans
Dimensions: 96 x 96 x 20mm [ L x W x H ]
Model # BEAMAIR 120
Universal Application 120mm case fans
Dimensions: 123 x 123 x 22mm [ L x W x H ]
Included in Package: BeamAir, 4 x Mounting Screws
$6.49

If you have any questions, don't be afraid to ask. No problem is too big or too small. We are, at our very core, a custom PC builder. So, if you have a custom need, we can find the solution. All you need to do is ask our sales team. We will be glad to answer all your questions.