NEXUS DOUBLETWIN | HARD DRIVE VIBRATION ISOLATOR
SKU: doubletwin
This product usually ships the same business day!
$8.99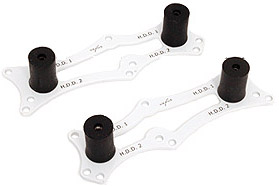 Nexus DoubleTwin
The Nexus DoubleTwin is a solution to get rid of any hard disk drive vibration noise. Are you tired of all the hard disk seek and vibration noises? Or is your hard disk creating resonance in your case? The Nexus DoubleTwin will alleviate your suffering!
The Nexus DoubleTwin is mounted in a 5.25" bay, and can hold two hard drives. Each DoubleTwin piece is equipped with two high quality solid rubber absorber mounts. This isolates any vibration noise which normally occurs when mounting a HDD directly in a case with metal on metal.
The differences between the DoubleTwin and the DiskTwin, are:
The DiskTwin is also a hard-drive cooling solution
The DoubleTwin can mount two hard drives.




Reduces hard disk vibration noise and resonance.


High quality rubber shock and vibration absorption blocks.


The DoubleTwin can hold one or two hard drives in respectively one or two 5.25" drive bays.




Nexus DoubleTwin Specifications
Manufacturer
Nexus
Purpose
Reduces Hard Drive Vibration and Noise
Model
DoubleTwin
Dimensions
113 x 34 x 23 mm
Compatibility
One or Two 3.5" Hard Disk Drives (HDDs)
Weight
45 grams (per DoubleTwin unit)
Materials

Solid Aluminum
Solid Rubber
Mounting Screws

Warranty
3 Years

DoubleTwin Vibration Isolator Installation

Clean the two surfaces of the hard drive to which the DoubleTwin will be mounted, removing any dust and oil.
Mount the DoubleTwin onto one or two hard drive sides by using the supplied screws.
Mount the hard drive with DoubleTwin into a 5.25" drive bay in your system using the supplied screws to dampen hard drive noise.

Nexus Double Twin with one HDD

Nexus Double Twin with two HDD's

$8.99

If you have any questions, don't be afraid to ask. No problem is too big or too small. We are, at our very core, a custom PC builder. So, if you have a custom need, we can find the solution. All you need to do is ask our sales team. We will be glad to answer all your questions.