SKU: nexus_70mm_case_fan
This product usually ships the same business day!
$11.99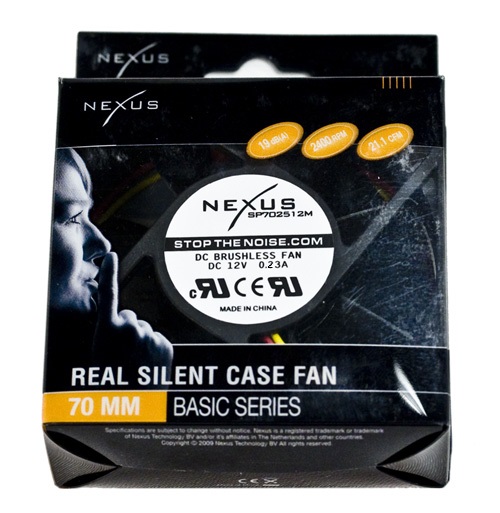 Quiet 70mm Case Fan
This quiet 70mm case fan is from the quiet computing leader reknown for their innovative products and quiet case fans, Nexus. The Nexus 70mm basic real silent case fans are the same 70mm fans which have been used in the Nexus' quiet CPU Coolers. These hard to find 70mm fans not only offer great airflow, but silent operation.

Nexus 70mm Case Fan with 3-pin Motherboard Connector
Dimensions
70 x 70 x 25 mm
Weight
85 grams
Oper. Voltage
10.2-13.8 Volts
Input Current
0.23 Amp
Input Power
3.96 Watts Max
Rotation Speed
2400 RPM
Acoustic Noise
19.8 dB(A)*
Airflow
21.1 CFM
Warranty
3 years
*Measured in an ISO certified chamber with 15 db(A) background noise.
$11.99