Warning: Technology changes very quickly so it is always recommended that you look at the date when the article was last updated. If you have any questions feel free to contact us.
Article Date: 10-13-2015
What Is Skylake? What are Z170 and H170 motherboards?
Skylake CPUs are Intel's latest generation of Core CPUs (6th Generation). Skylake CPUs feature 14nm architecture. Skylake CPUs have improved the onboard graphic performance of the motherboard (via the CPU). As of this writing the only CPUs that have come out as Skylake are Socket 1151 CPUs for use on the Z170 and H170 motherboards. Near the end of this year (2015) consumer oriented server CPUs and boards (Xeon E3) are supposed to be available with the latest architecture. In the meantime, Xeon E3 CPUs continue to come out in Socket 1150, 22nm architecture. Around Spring of 2016, professional level CPUs (Socket 2011 and Xeon E5) and boards are expected to be released with Skylake (14nm) architecture. Even though there are fewer Socket 1150 PCs available, some of our PCs are still Socket 1150. If your main concern isn't improved graphics responsiveness straight from the motherboard, you might be able to get a faster PC (for the time being) for the same amount of money by going with a Socket 1150 PC. If you are looking for a professional computer, on the cutting edge of technology, you should still be looking at Socket 2011 v3 such as those PCs in our
Quiet Elite
section and our
Quiet Server
section. Even though Intel has not released Skylake for their professional line of CPUs (currently Socket 2011 v3) and motherboards, still outperform the new Skylake Socket 1151 CPUs. You can read more about Intel's continuing advancements in microarchitecture
HERE
.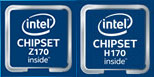 Socket 1151 CPUs (used on such motherboard chipsets as Z170, H170, and B150) will be featuring several improvements. Most of Intel's improvements, for now, center around improving the graphics performance of their CPUs. Socket 1151 CPUs are also supposed to run cooler than their predecessors (Haswell and Broadwell Socket 1150 CPUs), and will eventually run faster than Socket 1150 CPUs. Lower end Socket 1151 also have yet to be released. So for now, Skylake CPUs are more expensive than their predecessors. At the same time, motherboards for Socket 1150 are starting to go out of production, making Skylake PCs the logical choice.
Will I Benefit From Socket 1151 Skylake CPUs?
Skylake (the technology used in the Z170 Chipset and Socket 1151 CPUs) is Intel's latest line of consumer oriented CPUs. As of this writing, there are a limited amount of Skylake CPU and all of them are i5 and i7. Overall, the new CPUs are at a similar performance to Socket 1150 CPUs of the same level, but with added features. Eventually, Skylake CPUs will outperform current Socket 1150 CPUs, but right now that isn't the case. You can still purchase an i7 Socket 1150 PC which outperforms the general performance levels of an i7 Socket 1151 (Skylake CPU), for less cost than the new Socket 1151 CPU.
Why Would I Want to Purchase A Skylake PC?
Several new features are included with Skylake CPUs that aren't included with Socket 1150 (New Haswell) CPUs. These include:
Improved Graphics Support |
Out of the box graphics performance (without the need for an added video card) has nearly doubled with Socket 1151 (Skylake) over Socket 1150 (Haswell and Broadwell). Socket 1151 also includes full 4K support of up to 60 fps, and includes expanded support for DirectX 12, OpenGL 4.4, and Open CL 2.0.
64GB DDR4 Support |
Socket 1150 CPUs maxed out at 32GB DDR3 RAM support. The Intel Z170 chipset and Socket 1151 allow for 64GB
DDR4
RAM. So, if you are doing memory intensive work, you could probably benefit from using a greater amount of high performance RAM in your PC.
Expanded M.2 and U.2 support |
Socket 1151 (Skylake) is capable of greater M.2 and U.2 support (Asus Z170 motherboards are all compatible with the Asus Hyper Kit necessary for lightning fast NVMe drive support).
Expanded USB 3.1 support |
Z170 (Skylake) motherboards more commonly support USB 3.1 than their predecessors did.