Warning: Technology changes very quickly so it is always recommended that you look at the date when the article was last updated. If you have any questions feel free to contact us.
Article Date: 12-24-2015
Our Fanless PCs
Powerful Fanless Computers
Instead of building Fanless PCs with little more power than a netbook, we build truly powerful, full-functioning fanless computers with absolutely no noise. Our Fanless PCs not only handle normal internet use and light word processing, but are designed for the power computer user.
Our Fanless PCs are perfect for most any type of task including:
Audio recording
Servers
Photo processing
Database management
Light to moderate gaming
Home Theatre PCs
Video processing
Low-maintenance industrial PCs
Absolutely no-noise workstations
Sure, if you want the absolutely best performing PC, for extreme performance needs, and don't mind a small amount of noise (barely noticeable), you would be better off going with one of Quiet Elite PCs or a specialty PC designed around your exact needs (such as our Water Cooled Gaming PC or Dual Xeon E5 Digital Audio Workstation). But, for most performance and average user needs, our fanless PCs will meet your needs for years to come, and beyond.
No Shortcuts In Our Fanless Builds
Unlike others touting their so-called "performance" fanless PC builds, our PCs don't take short-cuts in:
CPU performance
Storage capacity
Ability to upgrade PCI based cards
Memory capacity
Reliable, top of the line motherboards (usually ASUS)
Non proprietary parts
Ability to upgrade motherboard/CPU at future date
The History Of The Fanless PC
Sure, some forms of fanless PC has been around for almost forever. But, let's face it, many of these fanless PCs are no more powerful than a netbook, or at best a laptop. Why pay the extra expense for a fanless PC, if it turns out to be little more than a heavy paper weight? After all, modern laptops and netbooks (unless ramping up during heavy use) are relatively quiet.
The First Full-Functioning Fanless PC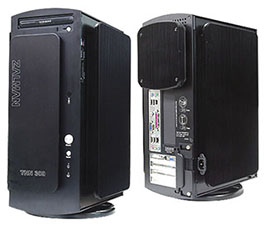 Zalman was the first real innovator when it came to a wide variety of quiet computer parts. And during that time (when they were inventing the first fanless CPU coolers, power supplies, video coolers, etc.), they also built the TNN (totally no noise) cases.
Zalman TNN
The Zalman TNN300 and TNN500 were attractive, but heavy, cases included heatpipes running from the key heat-makers in the PC to massive heatsinks on the outside of the computer. The TNN cases also involved a fanless power supply to power the whole thing. At that time, here at SilentPC.com, we were practically the only company to make a totally noiseless system (using the TNN).
But, eventually, Zalman decided the fanless case market was too expensive and time consuming to compete in. In came HFX (previously mCubed) and Streacom fanless computer cases, and eventually NoFan fanless computer cases.

HFX and Streacom
The HFX and Streacom cases were essentially the same idea as the Zalman TNN Cases. It was a simple design, one indeed that we had dreamed about ourselves even before Zalman's TNN case had yet come out. However, it was not as simple to master the heat dispersion in a fanless full-sized PC, with adequate, stable power from a fanless power supply. Yet, HFX and Streacom have now come out with an amplitude of case designs, all stable, functional, and beautiful, cooling the silent PC with heatpipes leading to large heatsinks layering the outside of the PC. Many of these cases solved the power supply complexity by using an external fanless power supply (typically restricted in it's power rating) or by accepting a standard ATX power supply. In our fanless builds which allow for a standard ATX power supply, we use the stable and efficient, Seasonic Prime SSR-600TL. This is typically enough power for most computer users.

NoFan Cases & CPU Coolers
Next, NoFan arrived on the scene. Since NoFan's design involves less metal (than was required for a massive heatsink on the outside of a case), NoFan PCs are more affordable and lightweight for an equally powerful PC. NoFan PCs work with a GIANT CPU cooler and a super well-ventilated case. We equip our NoFan PCs with a fanless and stable Seasonic Prime SSR-600TL. NoFan cases can be a little more prone to damage than the more solid HFX and Streacom designs, because of their lightweight, super well-ventilated design, but are a great choice for a budget-minded fanless enthusiast.
Fanless Mini PC
In addition to our desktop-sized Fanless PCs, we are proud to offer our tiny Thin Mini Fanless PC. The Thin Mini is a fanless PC built around the Akasa Euler Thin Mini Fanless case. It features a Socket 1150 Thin Mini ITX motherboard and true i3-i7 CPUs. These are full-functioning PCs, with most of the modern options and power that average computer users need. The Thin Mini Fanless PC is also VESA mountable (mounts on the back of monitors), making it a powerful, yet fanless option for Kiosk computing and service oriented businesses.
Our Thin Mini Fanless PC includes options such as USB 3.0, up to 16GB of RAM, and up to 3TB of hard drive space, as well as support for high-definition monitors (with HDMI onboard video). The Thin Mini Fanless PC performs at levels which are the equivalent (or more) of standard to upper performance levels of larger builds, from just a few years ago.
SilentPC.com (Cool Tech PC Inc.) at the Forefront of Fanless PC Builds
All along we at SilentPC.com have been one of the few, if not only, computer retailers to offer these full-functioning designs in a fanless PC. In fact, we offer a wider availability of real PCs (which are also fanless) than anyone else on the planet. Additionally, we have the most expertise in building fanless PCs. We don't cut corners in our PC builds and we build PCs to last and to perform.
You can check out our diverse line of Fanless PCs HERE. As always, if you would like to make any questions or would like any customizations to a computer configuration, please contact our Sales Team. We can put together a Fanless or Quiet PC from scratch, according to your specific needs.