Warning: Technology changes very quickly so it is always recommended that you look at the date when the article was last updated. If you have any questions feel free to contact us.
Article Date: 01-21-2015
Custom Linux Audio Server For DAC
Here at SilentPC.com, we love our customers. Our customers are typically tech savvy, yet they choose to work with us because of the confidence they have in us, not only to choose the quietest options in our PCs, but to choose the best possible components, to assemble our PCs to perfection, and to have an attitude of service.
Serving Our Customers
We are at heart custom PC builders, and love helping our customers work out the best PC choices for their particular use.
Here is how one customer took one of our fanless PCs, and had us help him configure it to be a linux audio server for his custom DAC: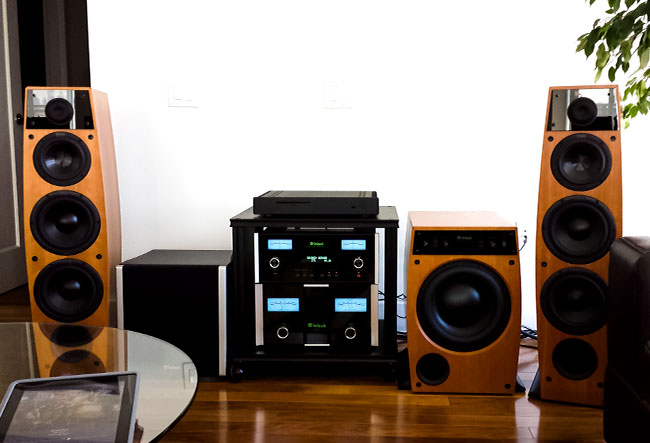 Fanless Linux Media PC
Our customer was looking for a PC to use along side his DAC (digital audio converter). His amplifying system by McIntosh provides fully lossless sound (using FLAC) with superb, natural sound.
The customer desired to run his own Linux environment (based in Open SUSE) on our Slim Fanless PC. We worked with him to find an audio card that would fit in the fanless case, would work in Linux, and would output optical audio to his DAC instead of USB. We compiled and ran his testing software (alsacap) on the card before his audio server shipped, so we could be certain everything would work flawlessly. In testing, we discovered some minor problems with support on his network card in Open SUSE, so we worked to find an upstream kernel that had resolved the problem. We also took some extra time, wired up his case and got it ready for an extra SSD that he was adding to his media server onsite.
He was pleased with his custom Linux Audio Server, as well as the fanless design that fit stylishly into his living room. He sent pictures to us, along with a note of thanks. It is really a pleasure to see our PCs out in the world, and to earn satisfied customers.
If you have any custom Linux needs, contact us, we are happy to help.