SKU: 3-PINto4-PIN
This product usually ships the same business day!
$1.99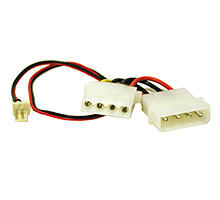 6 Inch 3-pin to 4-pin Pass-Through Adapter
The purpose of this pass-through adapter cable is to attach a 3-pin computer fan or 3-pin CPU cooler to the computer's 4-pin Molex power supply connector, while allowing the power supply connector the option of connecting another device with the second 4-in Molex connector.
To Power 3 Pin Fans
Converts 3 Pin Fans to 4 Pin Power...if you have a 3-pin fan (or CPU cooler) that you want to connect to a 4-pin power connector, this adapter will do the trick.
3-Pin Fan to 4-Pin Power Pass-Through Adapter Specifications
Product Name

3-Pin Fan to 4-Pin Power Pass-Through Adapter Cable

Function

Converts 4-pin Molex connector, to 3-inch Fan connector
Pass-Through Connector provides an additional 4-pin (male) power connector for additional device

Connectors

1 3-pin fan connector (male)
1 4-pin power connector (female)
1 4-pin power connector (male)

Length
Designed For

3-Pin Case Fans and CPU Fans
$1.99