SKU: pc-daw-4u-dualxeon
No major part delays on this system!
Typically will ship in 6-10 business days.

Music Studio Computer
MusicMaker™ Dual Xeon Recording Studio Server
When it comes to pure horsepower, with the smooth and silent operation of a professional recording studio DAW, this Dual Xeon Studio Computer can't be beat! Our top-of-the-line digital audio workstation PC can handle whatever recording project your studio can throw at it. Whether you need to record a whole band at the same time, record an entire bands worth of virtual instruments, or record a whole band in your studio while playing backtracks with live VSTs, this top-of-the-line professional level DAW Server won't miss a beat.
Every single item in our Digital Audio Workstation PCs (not just a select few) is geared to produce a completely silent work environment for the audio recording studio. This silent environment is imperative when it comes to studio recording with an absolutely dry signal for cleaner mixes. A clean recording requires the added attention to silence that we bring to the picture. You want to hear all of the beautiful details of your audio, and the last thing you want to hear in your studio recordings, is your PC!
We do our absolute best to make sure our DAW PCs are immaculately assembled, and that we get the best possible airflow, paired with the silence, so that they will last you for many years to come. All of our Digital Audio Workstation PCs come standard with a 2-year warranty, and are built with the highest quality parts we can find.
Dual Xeon DAW Music Studio PC Features
This Music Studio PC is built around a full sized 4U rackmount case. As always we replace the noisier stock fans with ultra quiet fans
4U Rackmount PC
Dual Physical CPUs
Legacy Ti 1394 Audio Card Options
M.2 Options
Easy Upgrades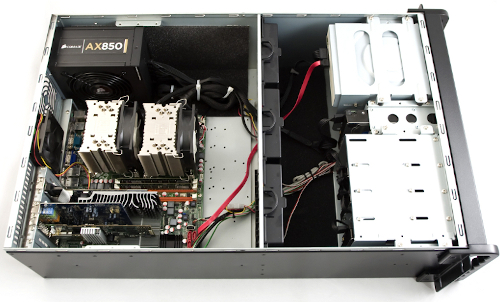 Dual Xeon DAW Music Studio PC Core Components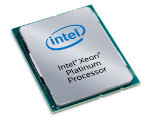 Intel Xeon Scalable processors
offer a balanced architecture, optimized for many workload types and performance levels, all with the consistent, open, Intel architecture you know and trust, that delivers built-in AI acceleration and advanced security capabilities. Intel Xeon Scalable processors allow you to place your workloads securely where they perform best-from edge to cloud.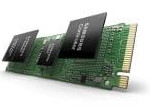 Every PC we sell comes defaulted with an NVMe M.2 SSD!
M.2 SSD Drives and SATA3 Solid-state drives (SSD) have no moving parts, so they make no noise, have fast read times, and are more reliable than standard mechanical hard drives. Standard mechanical hard drives are much less expensive per gigabyte, so use a high capacity drive for storing your large files.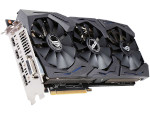 Quiet Video Cards
We choose the quietest video cards available in the market. Every video card choice is either fanless or cooled using a stock hybrid fanless cooler. Hybrid coolers stay with their fans off unless the GPU is really working. This prevents the card from overheating and is still very quiet. Most people never know that the fan has turned on. As well as being absolutely silent every video card offers support for at least two monitors simultaneously, many with options for more.

Reliable Asus Server Motherboards
This Asus server class motherboard features extreme reliability and excellent manufacturer support. Our motherboards use fanless heatsinks and heatpipes to effectively cool the chipset heatsink and voltage regulators, without the use of noisy fans.

High Quality Business Class Memory
This server comes defaulted with high quality Kingston ECC (error checking) memory. We use Kingston memory because it is highly reliable and features a lifetime warranty.
Rosewill RSV-L4000U 4U Rackmount Case Dimensions
Width: 19.20
Depth: 27.2in
Height: 7.0in
Rosewill RSV-L4000U 4U Rackmount Case Front Ports
1 x USB 2.0, 1 x USB 3.0
No Audio Front Ports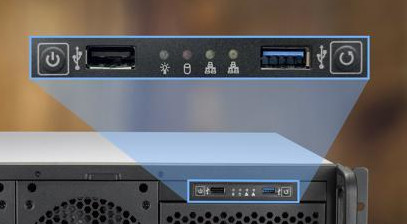 Asus WS C621E SAGE Motherboard Specs
Dual Socket 3647 Intel® Xeon® Scalable product family CPUs
Intel® C621 chipset
Max. 768GB, DDR4 ECC Memory
4 x USB 3.0 ports (4 rear)
2 x USB 2.0 ports (2 rear)
4 x M.2 PCIe 3.0
2 x Gigabit LAN Ports
3 x PCIe 3.0 x16 (x16 mode)
2 x PCIe 3.0 x16 (Single at x16, dual at x8/x8)
2 x PCIe 3.0 x16 (x8 mode)
RealTek S1220A 7.1 High Definition Audio with S/PDIF out
EEB Form Factor
We don't just choose quieter parts, we choose the quietest, best performing parts available and assemble them cleanly to optimize airflow and minimize the slightest vibration. We don't just replace one or two parts in our system with relatively quiet components, we replace each component with the quietest part available. You will be amazed at how quiet our systems are!
And like always, SilentPC.com backs our systems with a great warranty along with the best professional, courteous technical service and support on the market today. Not sure what configuration would best suit you? Contact our Sales Team to receive a custom quote!
$4,400.00
Case
Motherboard
Asus WS C621E SAGE
CPU
CPU Cooler
Dual Noctua NH-D9 DX-3647 Silent CPU Coolers
RAM
Video Output
Operating System
System Storage
Additional Storage
Additional Storage
Additional Storage
Removable Drive Trays
Power Supply
Optical Drive (DVD or BluRay)
Wireless Networking
Firewire (1394)
Sound Card
TPM Module
Case Insulation
Keyboard and Mouse
Warranty Options
Processing Options
$4,400.00
Not seeing what you are looking for?
Silent PC is, at our very core, a custom PC builder. So, if you are not seeing the option you need or if you have any questions, don't be afraid to ask. We can add the part, find the solution, or build you something totally custom. All you need to do is ask our sales team.


The Leader in Quiet Computing
---
We have been specializing in silent computers since 1999. If you have any questions, don't be afraid to ask. We are, at our very core, a custom PC builder. So, if you have a custom need, we can find the solution. All you need to do is ask our sales team. We will be glad to answer all your questions.
Fast & Free Shipping
All systems include FREE UPS Ground Shipping in the continental United States. Most systems will be assembled, tested, and shipped within 6-10 business days of the order. Rush processing options are available.
Extensive Testing
Each of our systems go through a rigorous burn-in and testing process ensuring that each system is quiet and stable before it ships. We only build with the quietest, most reliable, components available.
Clean OS Installs
We ship a clean system and will not install any trial software, advertisements or promotional offers. Your system will come with all the driver disks and software necessary to reinstall if necessary.
No Outsourcing
Every system is custom assembled in Battle Ground, Washington. If you contact sales or support, your call or email will be answered by a technician. No long phone trees, queues or ticketing systems to wade through.