QUIET SERVER | SILENT SERVERS
Quiet Servers
Our Quiet Servers are all about performance and reliability, while maintaining true silent noise levels, even with the highest-end server platform. We offer both Intel Xeon CPUs and AMD Epyc CPUs. All our servers feature ECC Memory, and are totally inaudible at over a foot in most cases. Some of our Quiet Servers are 4U rack mountable systems. Rails available upon request.
Optimized For Silent Server Environments
Optimized for virtualization software, such as:
VMware
Xen
KVM
Hypervisor
Each Silent Server includes:
Options for large amounts of storage
ECC (error checking) memory
High-reliability server motherboards
Server OS options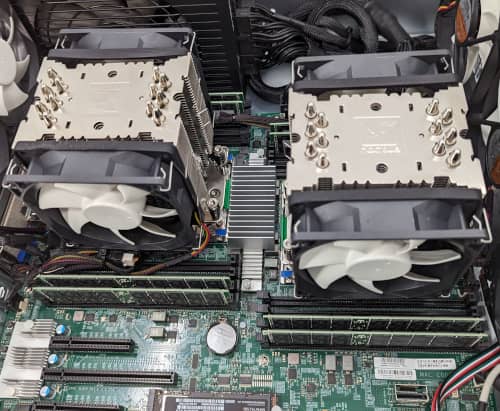 ---
Silent Server Features
---
System
Memory
Processor
Special Features
Dimensions
Quiet Dual AMD EPYC Rackmount Server

Max 1TB ECC DDR4
Dual AMD EPYC up to 128 Cores
Quiet 4U Rackmount
Width: 19.20
Depth: 27.2in
Height: 7.0in
Quiet Dual Xeon Scalable Rackmount Server

Max 384GB ECC DDR4
Dual Intel Xeon up to 48 Cores
Quiet 4U Rackmount
Width: 19.20
Depth: 27.2in
Height: 7.0in
EPYC Rackmount Server

Max 512GB ECC DDR4
AMD EPYC up to 64 Cores
Quiet 4U Rackmount
Width: 19.0in
Depth: 17.5in
Height: 6.9in
Small Business Value Server

Max 128GB ECC DDR4
Intel Xeon Entry up to 6 cores
Just the basic silent small business or home server
Width: 8.3in
Depth: 18.9in
Height: 16.5in

If you have any questions, don't be afraid to ask. No problem is too big or too small. We are, at our very core, a custom PC builder. So, if you have a custom need, we can find the solution. All you need to do is ask our sales team. We will be glad to answer all your questions.