ACOUSTIPACK EXTRA PC CASE INSULATION | 7MM ACOUSTIPACK EXTRA
SKU: acoustipack_extra
This part is currently out of stock. Please contact us for an ETA.
$21.95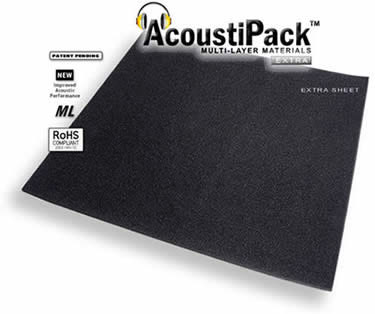 AcoustiPack EXTRA
The new range of AcoustiPack™ sound-proofing kits has been designed with our customer's pockets and greater flexibility in mind! As a result, we have introduced AcoustiPack™ EXTRA Sheet (7mm), which is a single large sheet of our latest generation 3-layer acoustic material. AcoustiPack™ EXTRA makes AcoustiProducts™ range of acoustic material kits more flexible, and can help to save money and waste when an entire kit is not necessary.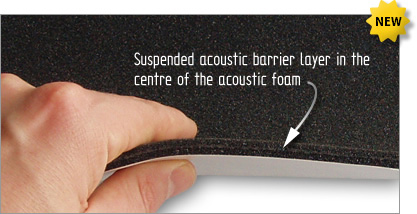 Multi-Layered Materials in AcoustiPack™ EXTRA
AcoustiPack™ EXTRA Sheet (7mm) is a 3-layer acoustic material. Comparative small and large scale acoustic tests with alternative single-layer PC sound-proofing materials demonstrate that AcoustiPack™ multi-layer materials are more effective and safer, while still remaining as thin as possible.
3-Layer Materials
In the latest generation of 3-layer composite (Patent Pending), the dense acoustic barrier layer has been 'suspended' away from the substrate in the center of the acoustic foam. The construction layering is like this: (noise source) acoustic foam → acoustic barrier → acoustic foam (then the substrate, which is usually a metal sheet panel).
Sound energy first hits the upper foam surface, which is similar to the 2-layer construction, in that it is a low-reflective soundproofing material that is particularly effective at absorbing high frequencies. The sound energy then encounters the central suspended barrier layer, which is decoupled from the substrate. This high-density high-mass layer acts as an acoustic barrier mass to the transmission of energy through the material. The 3rd layer of foam acts to suspend the barrier layer a small distance away from the substrate. We have found from both small scale impedance tube and larger scale reverberation chamber acoustic tests that the 'suspended' central acoustic barrier effectively increases the absorption of low frequency noise (>1kHz). This may well be a result of the ′mass-spring effect′, where low frequency energy is absorbed by the sound ′moving′ the layer when it is excited by certain resonant frequencies.
AcoustiPack™ Extra Specifications
What's Included With AcoustiPack™ Extra
3-Layer Sheets
1 (7mm ± 10%)
Total Number of Sheets
1
Product User Instructions
Included
AcoustiPack™ EXTRA Pack Dimensions
Sheet Dimensions [ W x D ]
457 x 431mm or 18 x 17″
Total Sheet Area
0.197 m2 or 2.12ft2
Other Details
Flammability Certificate
UL94-V0 (UKAS Accredited)
RoHS Certified
Yes
Compatible Case Design
The AcoustiPack™ Extra Sheet is suitable for any PC.
AcoustiPack EXTRA Features
Large enough to cover a case side panel of most large PCs.
Useful for application opposite noisy components like CPUs or VGA coolers.
The 3-layer materials are given extra density by the suspedned barrier layer, but are still flexible enough to allow easy cutting and shaping.
Will not cause internal temperatures in your PC to change significantly (when fitted correctly).
Thoroughly tested to meet stringent UL94-V0 flammability standards.
Fitting recommendations included with every kit.
AcoustiPack™ EXTRA Fitting Recommendations
A computer case can be fitted from start to finish within about 30-45 minutes depending on the complexity of the case. Fitting recommendations are supplied in the user instructions along with the Acoustipack.
$21.95